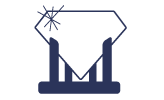 Gorgeous Design
We help you step-by-step to design the best kitchen you deserve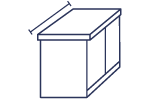 Custom Cabintery
All of our kitchens are hand made locally to perfection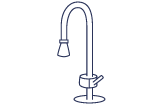 Countertops & Accessories
Our one-stop showroom has everything you are looking for
What Our Customers Are Saying
Don't just take it from us, let our customers do the talking!
"There is no better return on investment than what these folks do for kitchen and bath. They are architects of beauty, style and real life. Worth it just to visit their showroom, even if only to get your imagination soaring!"
David Smith
"The bungalow we purchased in Port Hope was in desperate need of a kitchen update, the cupboards were old and the layout didn't work at all. We talked some ideas through with Gary at Kingsmill Kitchens and Baths and he came up with a design that was perfect for us ! We now have a modern, bright kitchen that makes perfect use of otherwise wasted space. Gary, Tony & Samantha are great to work with, very professional and knowledgable, at the same time very friendly and approachable."
Kath Bain

Frequently Asked Questions
Do you make your own cabinets?
We do not make our own cabinets. We've partnered with Canadian cabinet manufacturers who are known for their quality and durability to create the kitchen of your dreams.
How long does it take to get my cabinets after I place an order?
Once a kitchen design is finalized and ready to order, it will take 4-6 weeks to make your cabinets.
What is the difference between granite and quartz?
Granite is a natural stone which is quarried from various parts of the world. Quartz is an engineered stone which is typically 93% natural quartz and 7% polymer resins for binding. Both are great options for countertops, and what you choose will depend on the "look" you are trying to achieve.
How long is the Kingsmill Kitchens and Baths warranty?
We warranty our workmanship and material for one year after installation. Hardware such as drawer slides are lifetime limited warranty.
Don't Be Shy
If we didn't answer all of your questions, feel free to drop us a line anytime.
Whether you are planning a large-scale high-end kitchen or bath renovation project or a smaller budget, you ultimately expect your project to be completed on time and on budget.
With the professional team at Kingmill Kitchens and Baths, you can be assured that your kitchen or bath would not only be completed on time and within budget, but also done to perfection using the highest quality materials and the finest craftsmanship. If you are looking for quality kitchen/bath remodelling, kitchen designing, redesigning or kitchen renovation and live in Port Hope, Northumberland County or surrounding areas of Ontario including Toronto, GTA, Quinte, Prince Edward County, or even in Kingston, stop by our showroom for great Kitchen and Bath ideas.
Our beautiful showroom represents an array of quality products and exceptional design talent. A visit to our showroom is sure to inspire you.